January 30 - February 1, 2024
Why Sponsor & Exhibit?
Each year over 5,000 green industry professionals gather in Denver, Colorado
for four days of dynamic educational sessions with over 225 exhibiting companies highlighting the latest technology, products and services in the industry. As the only Rocky Mountain Regional conference of its size and ongoing success, ProGreen EXPO is your best opportunity to connect with hundreds of potential new buyers.
Based on annual event demographics of past participants, ProGreen EXPO attendees are high-level decision makers with purchasing power across a variety of business types including landscape maintenance, design, municipalities and parks and recreation departments. Every year attendees note the EXPO floor is one of the main reasons they chose to attend the ProGreen EXPO.
You can reach these high-value prospects in the key consideration phase for the upcoming 2024 season, and be well positioned to grow your business. ProGreen EXPO is timely, relevant and delivers the right audience for your business in one location. Start your 2024 season off right by exhibiting on the EXPO floor and building awareness with a sponsorship.
EXPO Hours
Wednesday, January 31:
10 am – 4 pm
Thursday, February 1:
9 am – 4 pm
Booth Pricing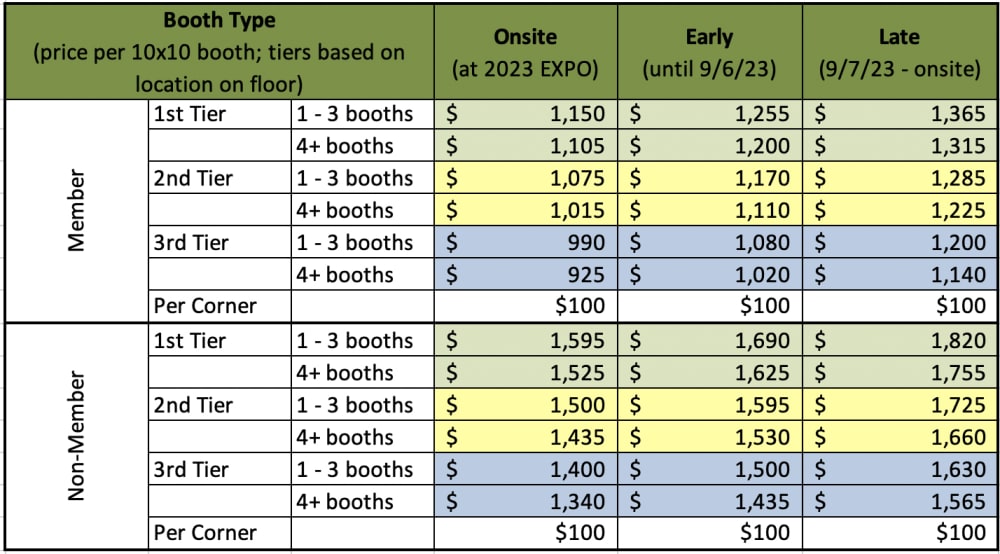 Note: Member pricing available to members of the ProGreen partner organizations: ALCC, CNGA, GCC, CALCP, RMSG, ASLA, CSU Extension, ISA
View Current Floor Plan
View Prospectus
Purchase a Booth
Member Pricing
Non-Member Pricing
Sponsorship Opportunities
Please take a moment to look at the opportunities we offer to get involved as a sponsor. We also encourage all companies, regardless of size, to consider a sponsorship as a way to expand your presence in the ever-growing Rocky Mountain green industry marketplace. Sponsorships are available at many investment levels. Don't see a sponsorship opportunity that you're interested in? Please contact ProGreen EXPO to create a custom sponsorship opportunity or package that fits your needs.
View Prospectus